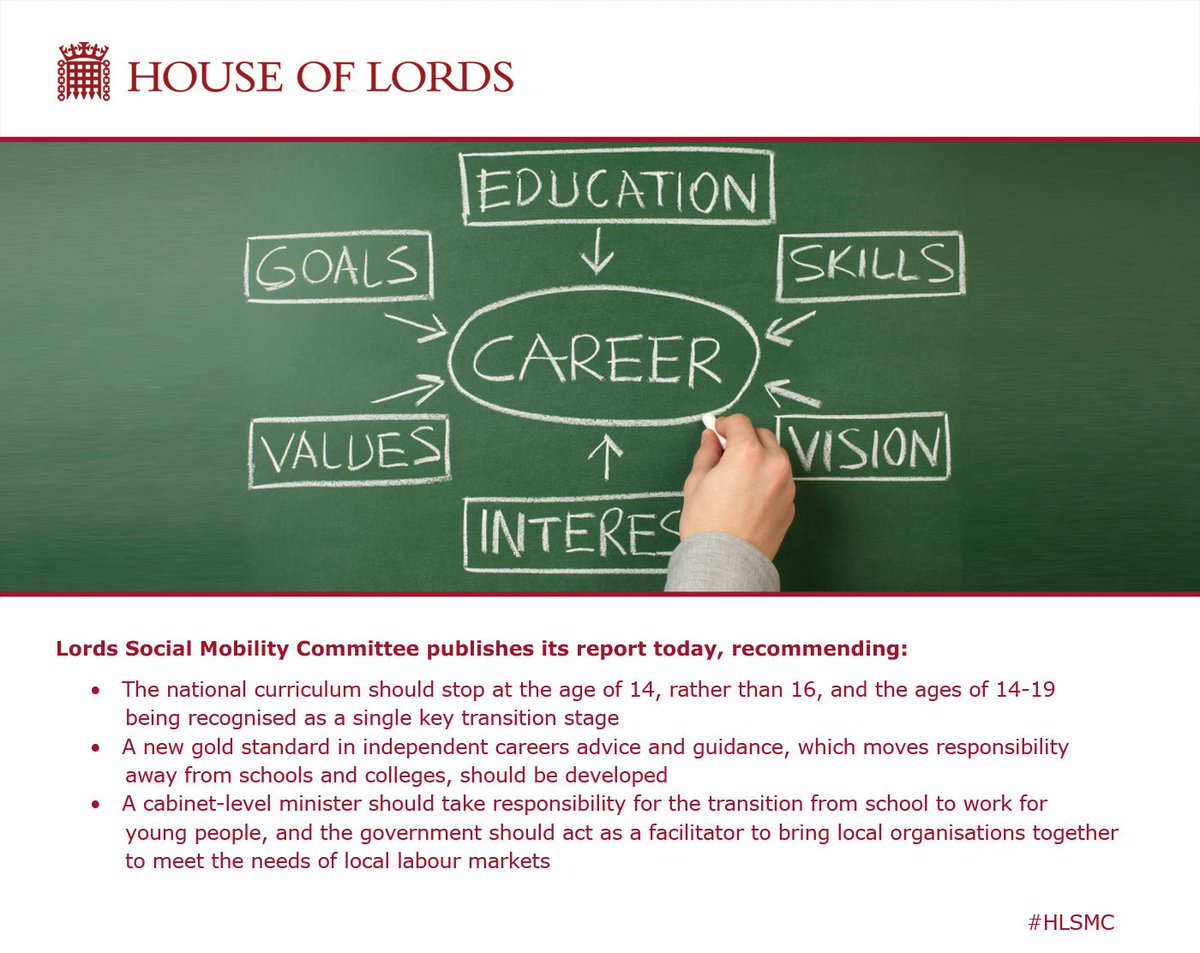 We have been a little quiet lately (which tends to happen when you have a group run by young volunteers in their spare time). However, this week was a big week in the youth employment space – on Friday 8 April 2016 the House of Lords Select Committee on Social Mobility published the report from their inquiry on the school to work transition for young people, particularly in relation to young people who do not attend university.
The Select Committee on Social Mobility was appointed by the House of Lords on 11 June 2015 to consider social mobility in the transition from school to work for 14–24 year olds and included a group of experts on the subject, ranging from former Labour Education Secretary Baroness Morris to Conservative peer Baroness Stedman-Scott, former CEO of the charity Tomorrow's People (she is also a supporter of The Found Generation and a member of the All-Party Parliamentary Group on Youth Employment).
Their report, "Overlooked and left behind: improving the transition from school to work for the majority of young people", is a comprehensive review of transitions from education to work for young people, especially young people who do not go to university but are not NEETs. The Committee summarise their recommendations as follows:
"This report makes eight recommendations to the Government. Our recommendations support the development of a coherent and navigable transition system for those aged 14–24. These recommendations do not add to the policy fragmentation which has hindered progress and clarity. Instead we recommend a cohesive system: a core curriculum for those aged 14–19, with tailor made academic or vocational elements, a gold standard in careers advice, and careers education in schools that empowers young people to make good decisions about their future. This system needs to be underpinned by reliable and publicly available data. It needs to be properly funded, owned by a single Minister, and monitored for success"
We were one of the many organisations to submit evidence to the inquiry so we are delighted that our submission has been extensively cited throughout the Select Committee's report. Our written evidence, which was submitted to the Select Committee in September 2015 and is available on our website or the Parliament website as submission SMO0101; was cited in no less than 8 separate parts of the report, covering the following points:
The fact that many employers would rather recruit people who demonstrate that they have skills to succeed than those who have academic qualifications (see paragraph 35, page 26, footnote 52)
The importance of face to face careers advice (see paragraph 216, pages 74-75, footnote 348)
The fact that the current transition system does not provide enough support to young people who do not follow the A-Level and higher education route – an assessment which was directly quoted from our written evidence (see paragraph 221, page 76, footnote 357)
That experience of the workplace and of employers is vital for young people to obtain jobs and to become socially mobile (see paragraph 232, page 78, footnote 371)
That social action or volunteering by young people should be encouraged to build their employability skills (see paragraph 236, page 79, footnote 380)
The development of life skills ought to be a feature of the curriculum (see paragraph 249, page 82, footnote 394)
That expanding the use of public sector procurement could create more jobs and other opportunities for young people (paragraph 338, page 99, footnote 510)
Improving the transition into work for school leavers should be a joint effort (paragraph 365, page 107, footnote 560)
We are also pleased that many of the policies we called for in our evidence and documents such as our Manifesto for Youth Employment have also been backed in some form by the Select Committee, including a requirement for high quality careers advice and guidance (supported by appropriate labour market information); ensuring that a specific government minister will assume ultimate responsibility for the transition from school to work for young people; and suggesting that the Government should act as a facilitator to broker collaboration between existing local organisations in a local area – such as FE colleges, schools, local authorities, LEPs and employers – to support young people in that area.
It is very clear that the Government need to do a great deal more to tackle these problems and to ensure that they do not continue into the future. This report is a valuable one but it is in some ways the latest in an ongoing series of reports which show that politicians of all parties have not done enough to deal with the issue of youth unemployment or to improve the life chances of young people from all backgrounds. We set up The Found Generation to tackle youth unemployment and prevent a 'lost generation' – so it somewhat depressing to see that, despite recent very welcome falls in youth unemployment, the Select Committee on Social Mobility argue that a generation of young people have been and remain 'forgotten' or 'overlooked' by policy-makers and that the underlying causes of and reasons for youth unemployment remain largely unaddressed.
We are concerned that the recent falls in youth unemployment have made the Government complacent. Even the March 2016 Budget, which was billed as a Budget for the "next generation", appeared to put forward very little in the way of policy change or additional support for young people to tackle youth unemployment. We hope that the Social Mobility Committee's report will provide a much-needed wake up call for the Government.